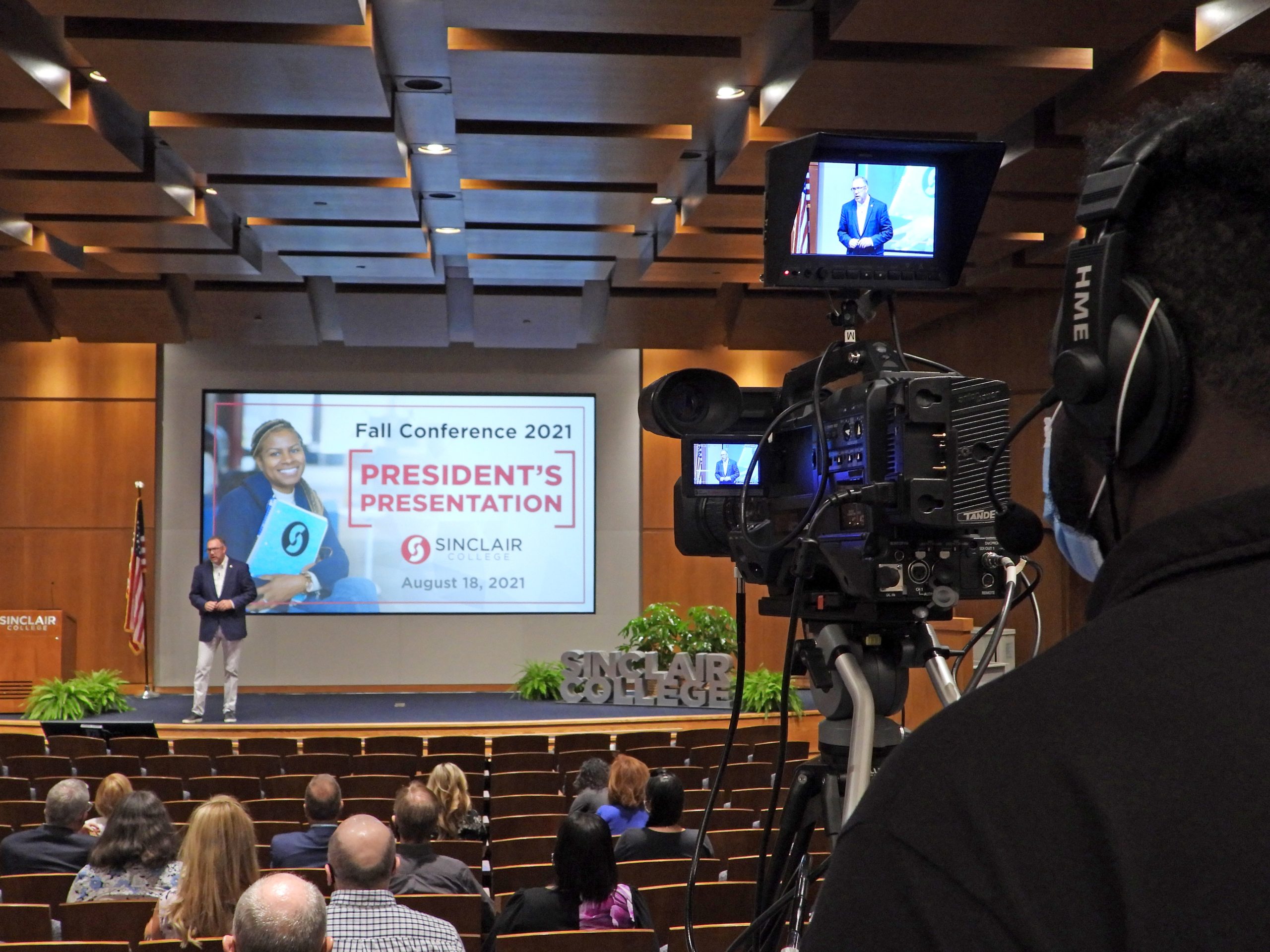 UNLEASH THE POWER OF CUSTOMIZED AV SOLUTIONS FOR EVERY SPACE
Transform your work environment with ITA's exceptional AV design and installation services. Our tailored audio-visual systems turn ordinary spaces into dynamic collaboration hubs. Experience the reliability and adaptability of ITA's AV solutions, providing lasting value for your business.
Bridging the Gap Between Physical and Virtual: Uniting Audiences Everywhere
Experience the best of both worlds by combining in-person and virtual elements with ITA Audio Visual Solutions' Hybrid Events services. Cater to a broader audience and create a unified experience that transcends geographical boundaries.
HOW WE HYBRID
HOW WE HELP YOU AMPLIFY YOUR MESSAGE
Hybrid Event Essentials
Streamlining the Attendee Experience
ITA Audio Visual Solutions provides a comprehensive suite of services designed to create engaging and memorable hybrid events. We focus on combining cutting-edge technology with our deep expertise to ensure seamless integration between the physical and virtual aspects of your event.
High-Quality Live Streaming

Deliver crisp, clear video and audio feeds for virtual attendees, ensuring an immersive and interactive experience.
Custom Virtual Platforms

Tailor-made virtual environments that foster engagement, networking, and collaboration among attendees.
Real Time Interaction

Facilitate Q&A sessions, live polling, and chat features to keep remote participants involved and connected.
With ITA's Hybrid Event Essentials, you can be confident that your hybrid event will be a resounding success. Our solutions allow you to create an inclusive and engaging atmosphere that caters to both in-person and virtual attendees.
Technical Expertise & Support
Ensuring Flawless Execution
Our team of experienced professionals is dedicated to providing the technical expertise and support necessary to execute a seamless hybrid event. From pre-event planning to real-time troubleshooting, we have you covered.
On-Site Technical Support

Expert technicians available to handle all aspects of your event's AV needs, ensuring a smooth and worry-free experience.
Remote Support

Our remote support team is ready to assist with any issues that may arise for virtual attendees, guaranteeing a seamless experience for all.
Pre-Event Testing

Comprehensive pre-event testing to identify and resolve potential issues, ensuring a polished and glitch-free event.
Trust ITA's Technical Expertise & Support to handle every aspect of your hybrid event's execution. Our dedicated professionals work tirelessly to provide unparalleled service and support, ensuring a successful and memorable experience for all attendees.
Maximizing ROI & Analytics
Unlock the Full Potential of Your Hybrid Event
Leverage the power of ITA's hybrid event solutions to maximize your event's return on investment (ROI) and gain valuable insights through comprehensive analytics.
Post Event Reporting

Detailed reports and analytics to measure your event's success and identify areas for improvement.
Atendee Engagement Tracking

Monitor virtual attendee engagement through session views, chat activity, and other key metrics.
Sponsorship Opportunities

Expand sponsorship opportunities and maximize revenue with targeted virtual exposure and branding.
Energy-Efficient & Sustainable Designs

Our commitment to future-proofing includes energy-efficient and eco-friendly technologies, aligning with the growing demand for sustainable business practices.
ITA's Hybrid Event services not only create a unified experience for all attendees but also unlock the full potential of your event through valuable data and insights. Maximize your ROI and make informed decisions for future events with our comprehensive analytics and reporting.
Our most flexible option with the perks of Broad-Cast and up to 8 remote presenters. The best pick for your upcoming conference.
All the perks of Intra-Cast with remote support. Ideal for your hybrid meeting.
No latency and crystal-clear communication. Perfect for in-person events with attendees in multiple rooms.
UNRIVALED SERVICE AND SUPPORT
Let ITA Audio Visual Solutions be your trusted partner for all your live event needs. Our dedication to delivering exceptional AV services, cutting-edge technology, and unparalleled customer support ensures your event runs smoothly and leaves a lasting impression on your audience. Contact us today to discuss your event requirements and discover how we can help you create an unforgettable experience.